The SAA PCD3 controller: a concentrate of automation, regulation, and communication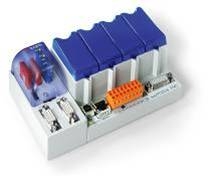 The following PCD3 controller allows:

- Optimal connection of inputs via sub-modules and space saving in the control cabinet thanks to compact cabling. - Programs of automation and regulation in list, Sequence Function Charts, function blocks (FUPLA). - Communication according to the main protocols, Ethernet, Modbus, Bacnet, MP_bus with belimo VAVs, M_Bus for certified counting, Lonworks, KNX - A local web monitoring with touch screens or remotely via Internet via secure connection (VPN). - An email alert to a mobile phone, a computer connected to the internet. - Consumption reports directly viewable in Excel, and sent by Email or file transfer, to any computer on the local or remote network, with a fixed IP address. - Remote modifications, programs or synoptics operating without moving.