Simple and user-friendly automation for your building management system.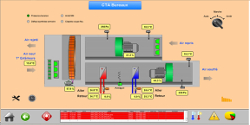 A_R_T company can design the architecture and offer an automation solution for your process control, your needs to equip your Air Handling Units, boiler room, chilled refrigeration units, air terminal units, lighting, blinds and the management of various electrical counting and fluids.
We can quickly program the equipment through a library of examples, both at the Fupla SAIA programs that synoptic webserveur , for your HVAC equipements.
The saia system is very open in terms of communication: Modbus RTU, Modbus TCP, KNX Bacnet IP, or Mbus. So, it is very easy to connect all the equipments that exist on your system.
The customer is no longer dependent on a proprietary system.
A new concept with automation and supervision together in the PLC SAIA PCD: Webserver
For supervision, we can offer you a traditional solution as PCVUE , but also a new Webserver solution that fulfills the same functions, and allows 30% off the total budget (for small projects and average GTB (100-1000 PLC inputs outputs)). In fact, no need to supervisor licensed nor specific communication card, for each controller or BACnet IP exchange table, or Modbus TCP !!
All archiving of values or alarm functions , alarm sending, monitoring and control, energy reports , schedules are now inside the PLC accessible using (Microsoft web pages Google chrome or Mozilla) installed on your PC.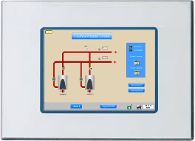 The webserver pages in the 7-inch screen with 800x480 resolution are almost identical to those of supervision that will be developed on a 28 inch screen in 1920x1200 resolution. And the graphical development is done only once!
The data (consumption, temperature curves) are stored in flash memory, up to 4 years, but can be returned to any PC connected to the internet for analysis (eg SQL database etc ..)
A remote management can be performed by the Virtual Private Network connection.
Automation in webserver applies perfectly to the small and medium projects BMS. (a few hundred to a thousand PLC inputs-outputs).
3 medium-sized projects already exist in France equipped with webserver: several clinics and a general council building. A live website demo is available, please contact us, if you are interested.
Saia Burgess is a Suiss company from the Honeywell group